OUR SCHOOL PRAYER
Om….. Om….. Om…..
Yakundendu tushara hara dhavala,
Ya subhra vastranvita
Ya veena vara danda manditakara,
ya swetha padmasana
Ya brahmaachyuta sankara prabhrutibhihi, devai sada pujita
Samaampatu saraswati bhagavati,
nissesha jadyapaha……
Om…. Suklambaradharam vishnum
sasi varnam chaturbhujam
Prasanna vadanam dhyayeth
sarva vighnopa santhaye
Agajaanana padmarkam
gajaananam aharnisam
Anekadam tam bhaktanam
ekadam tamu pasmahe…
Om… Saraswati namastubhyam
varade kamarupinee
Vidyarambham karishyami
sidhirbhavatu me sada…
Om…. Gurubrahma, guru vishnuhu,
guru devo maheswaraha,
Guru sakshat parabrahma,
tasmai sree gurave namaha…
National song
(Bankim chandra chattopadhyaya, 1882)
Vandemataram vandemataram
sujalam, suphalam, Malayaja seetalam,
sasya syamalam mataram, vandemataram
Subhra jyotsna pulakita yamineem,
pullaku sumita drumadala sobhineem, suhasineem sumadhura bhashineem
Sukhadam varadam mataram, vandemataram vandemataram
Pledge
India is my country. All Indians are my brothers and sisters, I love my country and
I am proud of its rich and varied heritage,
I shall always strive to be worthy of it.
I shall give respect to my parents, teachers and all elders and treat everyone with courtesy. To my country and my people,
I pledge my devotion. In their wellbeing and prosperity alone lies my happiness.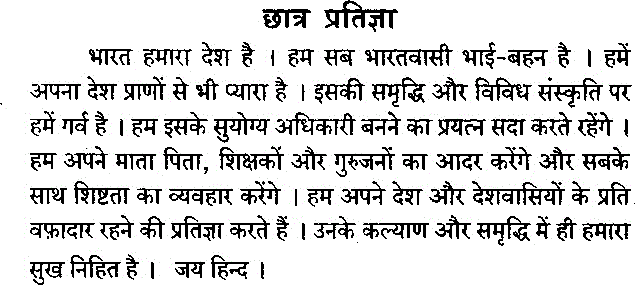 (First, pledge was composed by Pidamarri venkata subbarao, 1962, in telugu )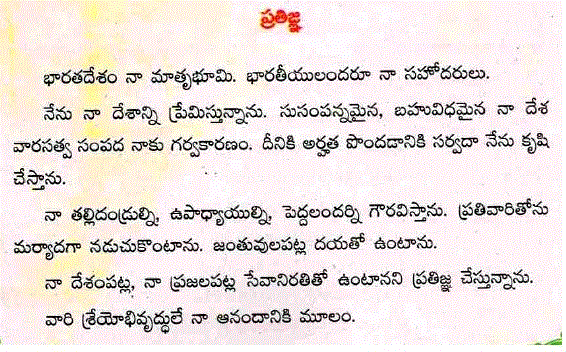 Today's new Today's proverb, Any new word; Amazing facts,,,,
(Do you know?)
Prayer before lunch
Om….Annapurne sada purne
sankarah prana vallabhe
Gnana vyragya sidhyartham bhikshamdeheecha parvathi
Matacha parvati devi
pitadevo maheswaraha
Bandhavah siva bhaktascha
swadesho bhuvanatrayam……
Evening prayer
Om… sahana vavatu sahanau bhunaktu sahaveeryam karava vahai
Tejaswina vadheeta mastu
ma vidvisha vahai,
om santihi santihi santihi……
National Anthem
(Rabindranath tagore, 1911)
Janaganamana adhinayaka jayahe
bharata bhagyavidhata
Punjaba sindhu gujarata Maratha
dravida utkala vanga
Vindhya himachala Yamuna ganga, uchchala jaladhita ranga
Tava subha name jage, tava subha asisha mage, gahe tava jaya gadha
Janagana mangala dayaka jayahe
bharata bhagyavidhata
Jayahe… jayahe… jayahe…
jaya jaya jaya jayahe…..